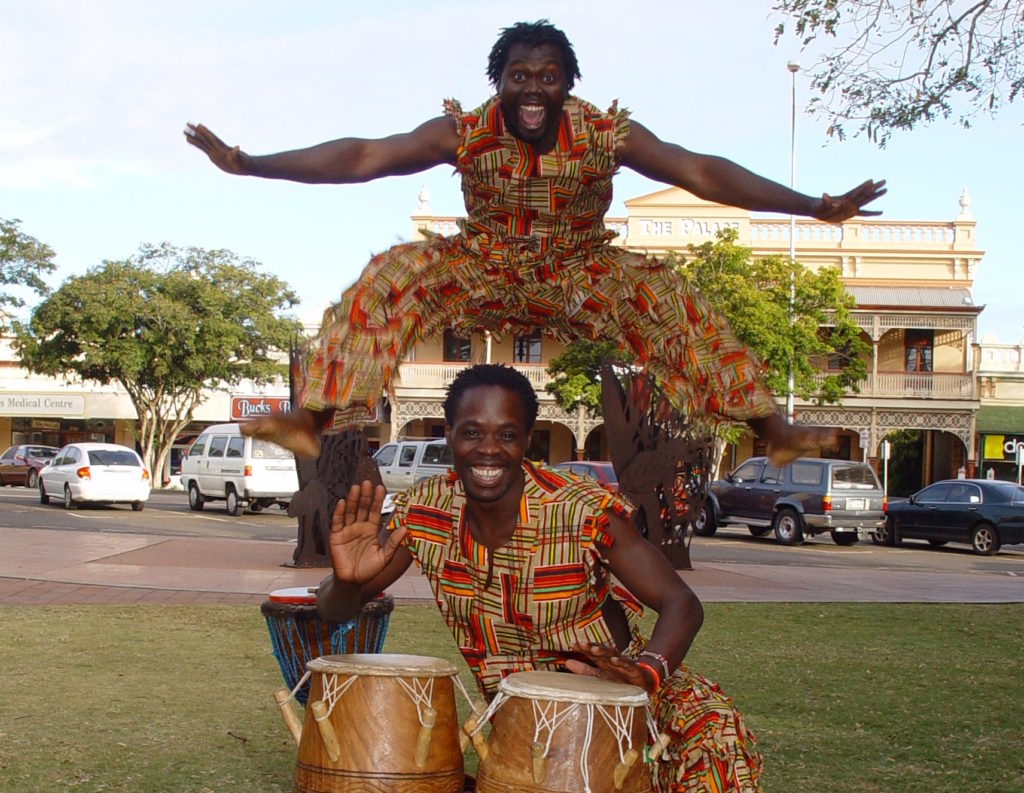 The Baala Baajo Duo – Dynamic, passionate, vibrant and energizing!
Fusing traditional East and West African music, song and dance Baala Baajo creates a dynamic, captivating, passionate, vibrant and energising explosion of African drumming, dancing and singing.
Lead by Nii Armah from Ghana and Sam Okoth from Kenya, Baala Baajo creates an uplifting and soulful African musical journey – contemporary and traditional, timeless and utterly authentic.
The instrumentation incorporates the authentic sounds of a range of traditional African drums and percussion creating soulful melodies and explosive rhythms that inspire and uplift. With attention to cultural detail, energetic choreography and vibrant costumes the rhythms are accompanied by visually stunning dance routines from East and West Africa.
Nii Armah and Sam Okoth – Well-known for their energy, exuberance and musicality Nii Armah and Sam have travelled nationally and internationally, performing and teaching African arts and culture to diverse groups of all ages. Ghanaian born, Nii Armah and Kenyan born, Sam Okoth, are accomplished singers, dancers and musicians, with a genuine passion for the music and culture of their native countries. They play a range of instruments and their music is original and diverse – from traditional African melodies to high energy drum rhythms, combined with energetic dance rituals and beautiful vocals.
Lansana Camara – Sana is from Guinea in West Africa. He was born into a Griot family and has spent his life learning the traditional music and songs of his rich cultural heritage. He is a talented Kora and ballaphon player and is a powerhouse on the Djembe. Sana has performed with Nii Armah and Sam on a number of occasions.
Session Times
| Details | Time |
| --- | --- |
| African Drummers | 11.50am Saturday |
| African Drummers | 2.30pm Sunday |
| African Drummers | 9.30am Sunday |
| African Drummers | 2.30pm Sunday |
Share This
Share this page with your friends and family on social media: