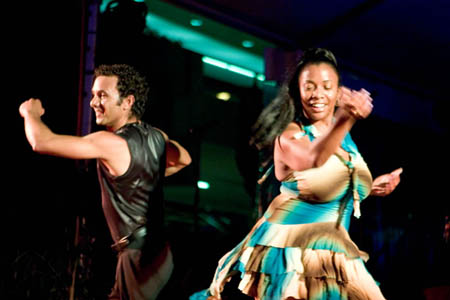 Cuban Dance Company will present forgettable floor shows in the combination of traditional Afro-­Cuban choreography. The popular, vibrant and passionate moves that define popular Cuban dances today makes their routines as mesmerising as they are memorable.
Cuban Dance Company was founded in January 2004 by Israel Ortiz, Brisbane's only genuine Cuban trained dance teacher and performer.
Born in Santiago de Cuba, Israel has been dancing practically all of his life. He first went to a specialised dance school at the age of 11 and went on to graduate from the National School of Artin Havana.
Maygualida Rodriguez was born in Santiago de Cuba. Maygualida was a dancer in one of the most well-known Folkoric Dance Companies in Cuba. Maygualida settled in Australia 7 years ago and since has been involved in many dance projects in Queensland and in other parts of Australia. She dances from the heart and has become recognised in Brisbane for her unique style of dancing.
Session Times
| Details | Time |
| --- | --- |
| Cuban Dancing | 9.30am - 9.50am Saturday |
| Cuban Dancing | 3.30pm - 3.50pm Saturday |
| Cuban Dancing | 10.30am - 10.50am Sunday |
| Cuban Dancing | 1.30pm - 1.50pm Sunday |
Share This
Share this page with your friends and family on social media: