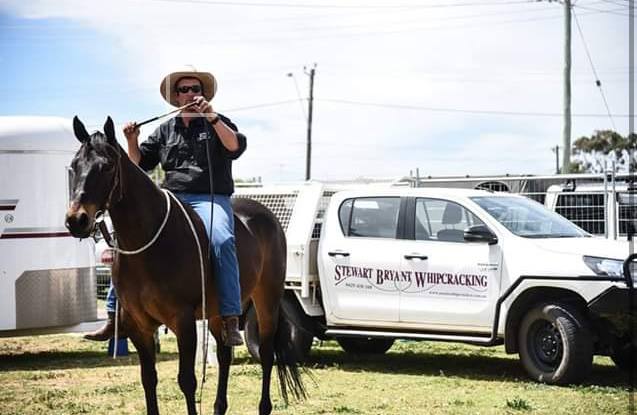 Stewart Bryant will demonstrate whip cracking skills at the country music stage throughout Saturday and Sunday.
Stewart grew up in Yea and after seeing the movie "The Man from Snowy River", decided he would learn to crack a whip. Stewart was eight years old when he made his first whip from pieces of baler twine tied to a stick.
After years of practice Stewart Bryant is so highly skilled he can crack a pair of Australian whips to music and perform tricks that often involve eager volunteers from the audience. Stewart Brynat competes annually in the Victorian titles at the Royal Melbourne Show, Australian and State Titles and has even attended the Australian Whip Crackers and Plaiters Association's national titles a few times.
Stewart Bryant is now residing in Mansfield where he performs demonstrations at local country shows and venues to promote the Australian bush heritage and culture around cracking the Australian kangaroo hide whip. In around 2007 Stewart Brynat inspired a group on South Australian kids to take up whipcracking, that group, now known as the Penola Whip Crackers has continued on and become well known nationally.
The love of the Australian stockhorse has lead Stewart Bryant to raise and teach some of the most highly trained performing stockhorses in Australia. Stewart Bryant is on a mission to promote Australian heritage and Culture, whipcracking and the Australian shockhorse to the audiences of the world and in 20xx Stewart toured through country England spreading his message.
With twenty-five years experience, Stewart Bryant in now in hot demand to perform. The Sydney 2000 Olympic organising committee enlisted Stewart Bryant to perform at the opening ceremony of the games. To prove that that whipcracking is not the sole domain of the vast open spaces of the Australian high country, Stewart Bryant has also performed at indoor venues such as Crown Cassino (Palladium), weddings, funerals and birthday parties. Stewart Bryant can entertain in any venue where he and his amazing stockhorse can tread and his enthusiasm will inspire you to have a crack at this legendary Australian sport.
Session Times
Details

Time

Whip cracking demonstration
11.30am - 12.00pm Saturday
Whip cracking demonstration
1.30pm - 2.00pm Saturday
Whip cracking demonstration
4.00pm - 4.30pm Saturday
Whip cracking demonstration
11.30am - 12.00pm Sunday
Share This
Share this page with your friends and family on social media: