Festival Glamping is available onsite and can be booked to stay Friday and Saturday nights. Bookings are via the festival box office and will go on sale at the same time as tickets.
The luxury bell tents include air mattresses, linen, doona, blankets, pillows, cushions, chair and side table, as well as LED lantern and floor mats. Toilets and showers provided.
COST FOR 2 NIGHT STAY
3mtr tent (1 person, Single bed): $320
4mtr tent (2 people, Queen bed or 2 singles): $480
4.5mtr tent (3 people, Queen bed and single bed): $595
5mtr tent (4 people, 2 Queens OR 4 Singles OR 1 Queen & 2 Singles): $640
CLICK HERE to view the FACT SHEET with all the essential information to know about glamping at the festival.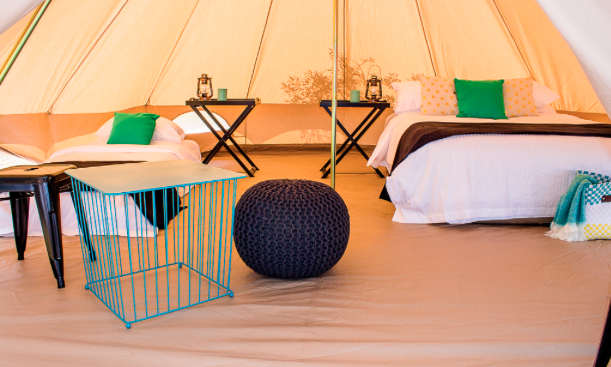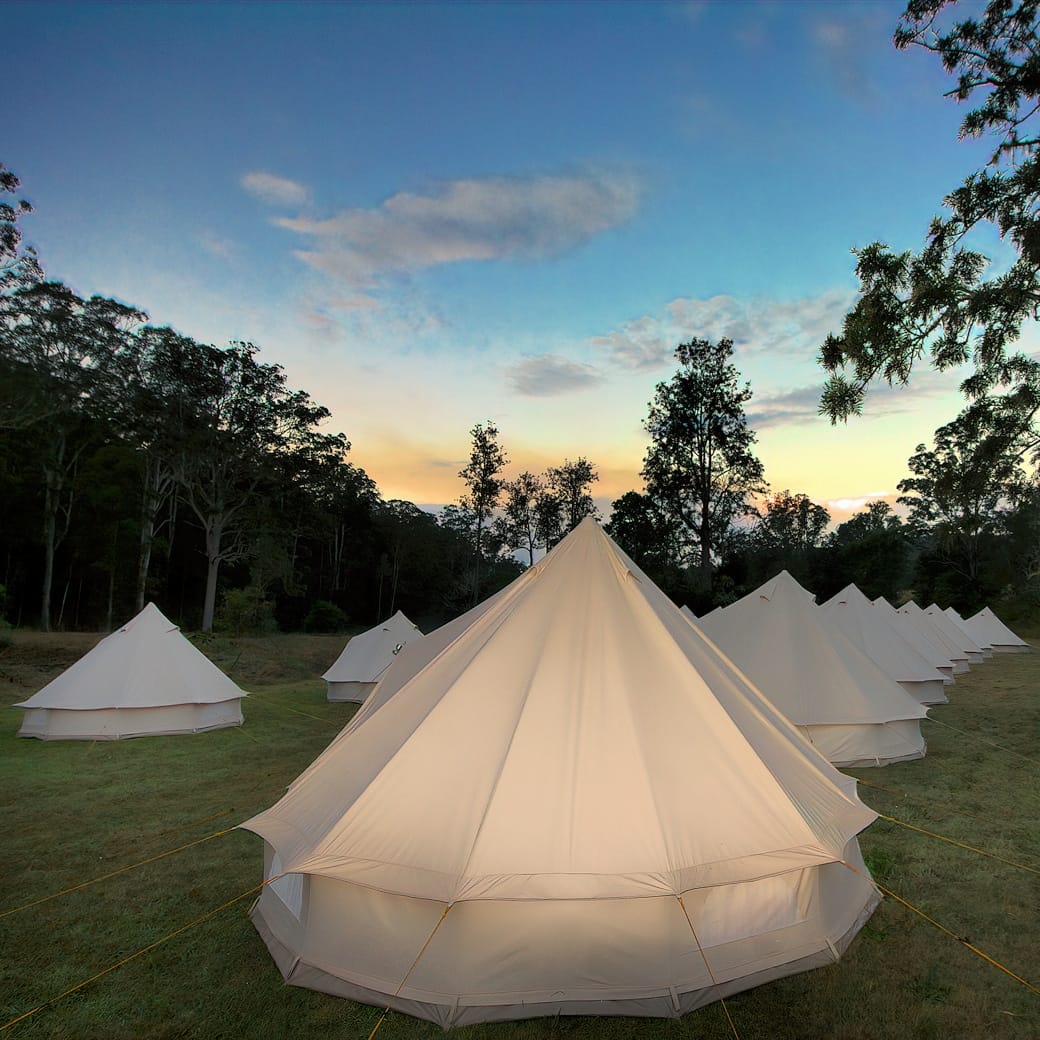 CAMPING DATES
Onsite camping opens on Wednesday morning 27 July and closes Monday morning 1 August 2022.
CAMPING FEE
Camping onsite is $60 per site.
$60 Fully covers the cost of your camping - it costs no more or less if you stay 1 night or up to 5 nights. (Wednesday to Sunday nights available).
(Up to 4 adults per campsite.  1 vehicle only per site. Additional vehicles use the festival car park or book a second camping site.)
MORE ABOUT CAMPING
CLICK HERE to read our camping fact sheet for more about camping as a group, facilities onsite and more.
Other Accommodation Options
Camping Around Tara
Tara Lagoon Parklands, adjacent to the Tara Lagoon and next door to the Festival at the Showgrounds. Camping and caravans welcome. Showers, toilets, BBQs. Fees apply. Dogs welcome (must be leashed).  NOTE: this council owned camping area is not available for pre-bookings, so there is no guarantee of a camping spot.
The Gums Sports Club camping (30km, 20mins drive west of Tara). $10 a night. Caretaker on site. Mostly Unpowered Sites. Toilets available and 1 x Male and 1 x Female Shower on site.  Visit their Facebook Page.
Accommodation in Tara
Tara Hotel Motel - FULLY BOOKED FOR THE FESTIVAL
Commercial Hotel - FULLY BOOKED FOR THE FESTIVAL
Tara Spa Apartments - FULLY BOOKED FOR THE FESTIVAL
Accommodation in Surrounding Towns
Chinchilla (69.6km, 1hr 10mins from Tara)
View Map here
For accommodation, info click here
Dalby (89.3km, 1hr 5mins from Tara)
View Map here
For accommodation info click here
Meandarra (63km, 44 mins drive west of Tara)
Meandarra Motel, Meandarraph: 4665 6121
The Royal Hotel Meandarra ph: 4665 6183
Caravan Park and Campgrounds by Brigalow Creek
Moonie (74.8km, 1hr from Tara)
Moonie Crossroads Motel
Ph: (07) 4665 0200